Trending Prom Dress Styles 2023: Your Ultimate Fashion Guide
What Are the Hottest Prom Dress Trends for 2023?
You'll find the answers right here in this post! Read on to discover the classic elegance, sparkling sequins, bold and colorful choices, chic minimalism, and unique necklines that are making waves in the world of prom fashion.
Prom season is just around the corner, and it's time to start thinking about your perfect dress! The year 2023 brings a fresh wave of trends to the prom fashion scene.
From timeless classics to modern showstoppers, we've got you covered with the latest prom dress trends. In this style guide, we'll explore the top trends that will make you the belle of the ball.
Classic Elegance: Timeless Styles Never Fade The classics are classic for a reason! This year, traditional prom dress styles are making a comeback. A-line dresses, ball gowns, and mermaid silhouettes continue to steal the show. Look for dresses with delicate lace, satin, and tulle fabrics for a timeless, elegant look. Whether you prefer a floor-length gown or a chic tea-length dress, classic styles are always in vogue.
Sparkle and Shine: Glitter and Sequins Galore Let's face it, who doesn't love a bit of sparkle? Glitter and sequins are taking the prom stage by storm in 2023. From subtle shimmer to all-out dazzle, prom dresses with sequins and metallic accents are a hot trend. Capture the spotlight with a gown that glistens under the lights and makes you the center of attention.
Bold and Colorful: Vibrant Hues Steal the Show Don't be afraid to embrace color! Vibrant and bold hues are a hit this year. Stand out in vivid shades like emerald green, royal blue, or fiery red. Monochromatic dresses are making a statement, and two-tone combinations are turning heads. Opt for a color that complements your personality and makes you feel confident and radiant.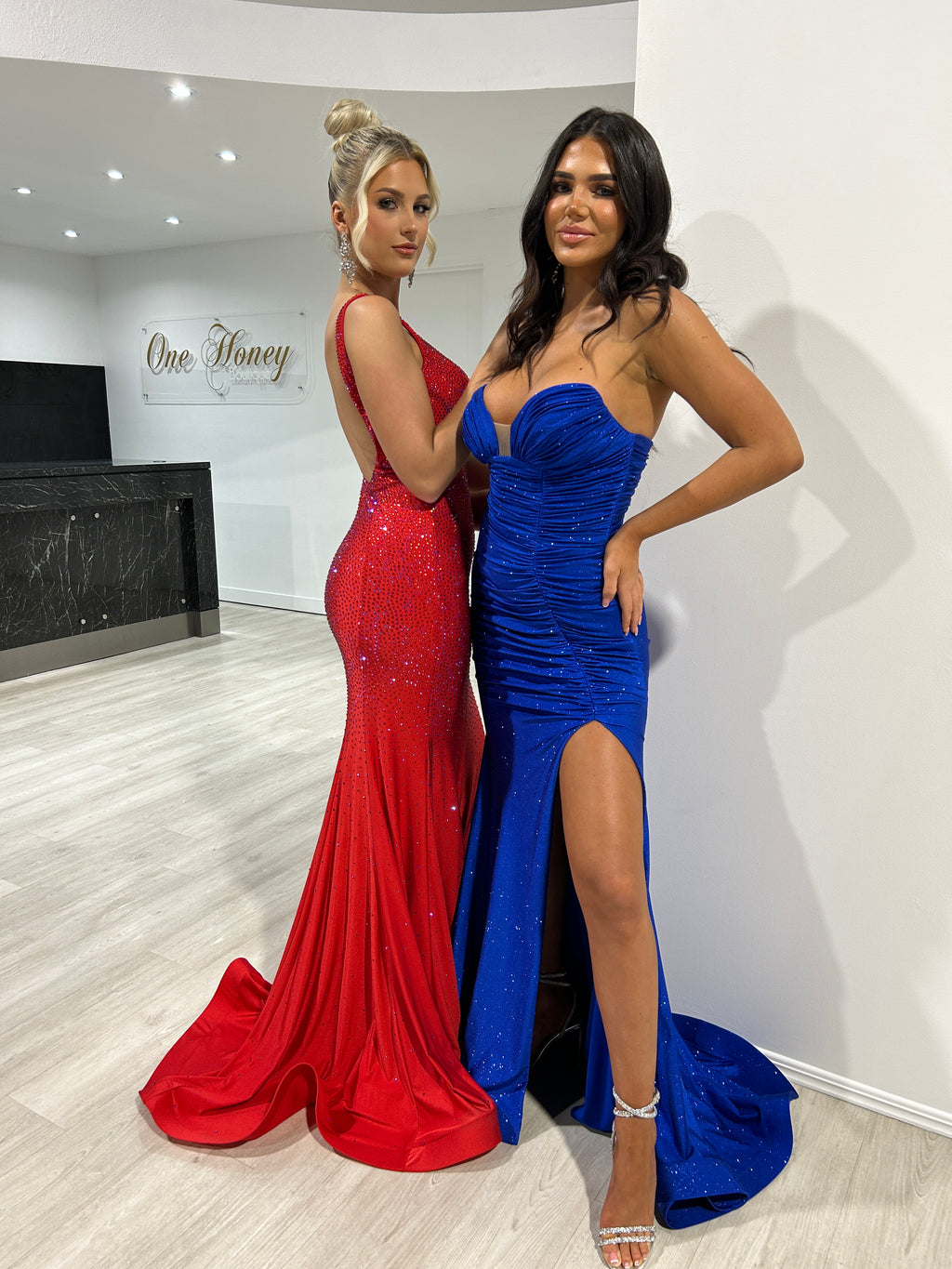 Chic Minimalism: Less is More Simplicity is the ultimate sophistication. Minimalistic prom dresses are gaining popularity. Clean lines, sleek silhouettes, and understated elegance are the hallmarks of this trend. These dresses prove that less is more, allowing your natural beauty to shine through without distractions.
Unique Necklines: The Collar Makes the Difference It's all about the details! Unique necklines are making waves this prom season. From high necks and off-the-shoulder styles to halter necklines and illusion designs, there's a neckline to suit every taste. Choose a neckline that accentuates your features and adds a touch of personality to your dress.
Conclusion: The prom dress trends of 2023 offer something for everyone, whether you're a fan of classic elegance, all things shiny, vibrant colors, minimalist designs, or unique necklines. It's your time to shine, so choose a style that resonates with your personality and makes you feel fabulous on your big night.
Stay ahead of the curve and embrace the trend that speaks to you. Don't forget to complete your look with the perfect accessories and confidence that will make you the star of the evening. Happy prom dress shopping!
And there you have it, prom trendsetters! 🌟✨ The spotlight is on you as you dive into the enchanting world of 2023's hottest prom dress trends. From timeless elegance to dazzling sequins, vibrant hues, chic minimalism, and unique necklines—your perfect prom look awaits! Follow us on TikTok @onehoney for more fashion inspiration, behind-the-scenes fun, and all things fabulous. Happy prom dress shopping, and may your night be as spectacular as your dress! 💖👗🎉
ONE HONEY AUSTRALIA'S LARGEST PROM & FORMAL DRESS SHOWROOM
Read more