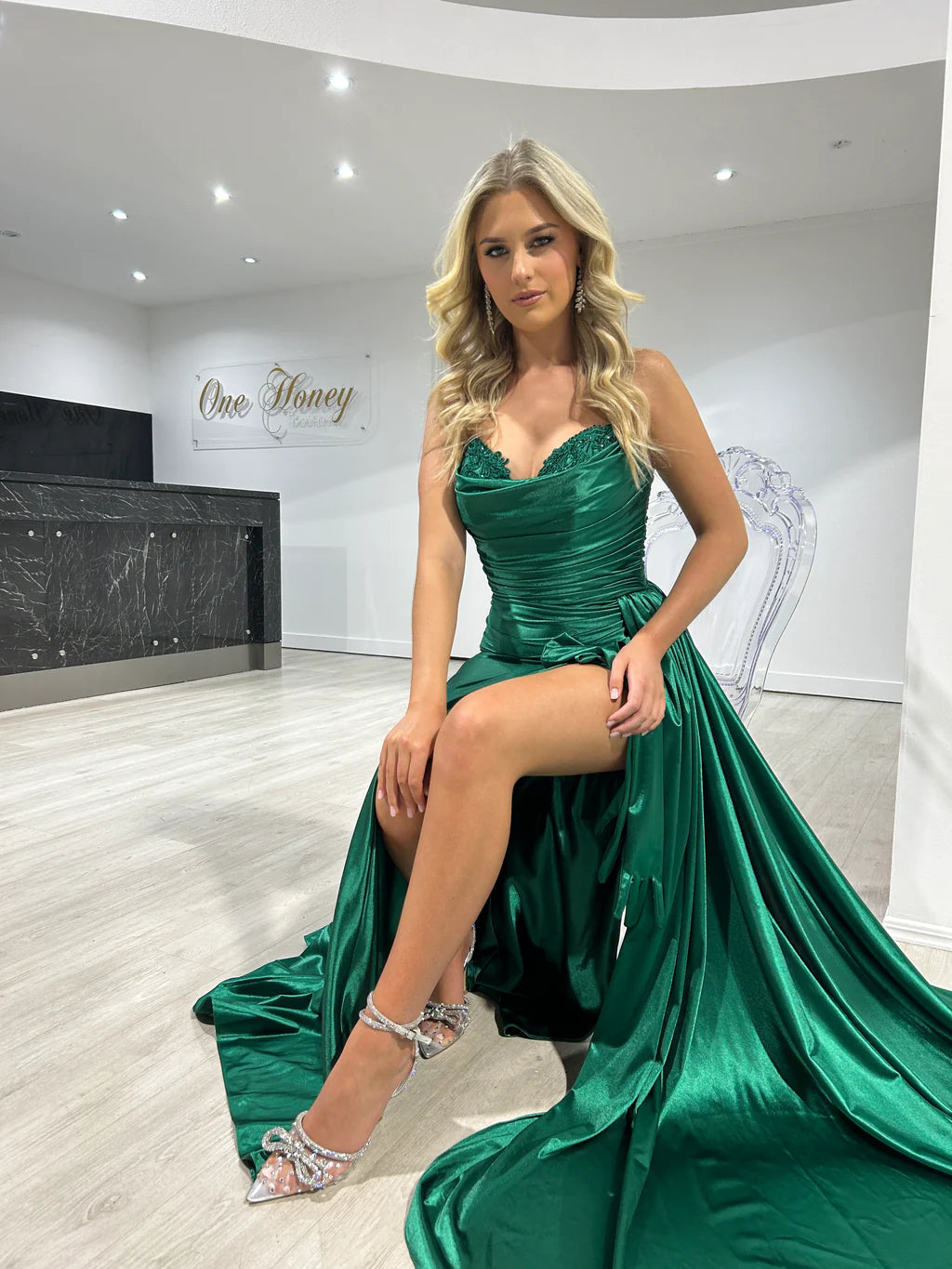 Elevate Your Glamour: SHERRI HILL Formal Dresses Exclusively at One Honey Boutique
Founded by the illustrious designer Sherri Hill, the brand has redefined the landscape of formalwear. With an unwavering commitment to intricate craftsmanship and an eye for detail, SHERRI HILL has become the epitome of luxury and cutting-edge design, available exclusively at One Honey Boutique.
Step into a world of glamour with SHERRI HILL's diverse range of formal dresses at One Honey Boutique. From flowing A-line gowns to sleek mermaid dresses, each piece is a unique expression of beauty and style, perfectly curated for every special moment in your life.
SHERRI HILL's allure lies not just in design, but also in the meticulous selection of fabrics and embellishments. Luxurious materials, intricate lacework, and dazzling embellishments converge to create dresses that transcend fashion norms—available exclusively for you at One Honey Boutique.
The star-studded appeal of SHERRI HILL has captured the hearts of celebrities globally. Hollywood icons, influencers, and trendsetters regularly grace red carpets in SHERRI HILL creations, solidifying its status as a coveted designer label—now within your reach at One Honey Boutique.
Whether you opt for a classic ball gown or a sleek cocktail dress, styling your SHERRI HILL dress is an art in itself. At One Honey Boutique, our seasoned stylists await to guide you in finding your dream SHERRI HILL dress and offer personalized tips to ensure you shine at every event.
Where to Find Your Dream SHERRI HILL Dress: As an authorized retailer, One Honey Boutique takes pride in presenting an extensive collection of SHERRI HILL formal dresses. Immerse yourself in the allure of these dresses by visiting our Gold Coast showroom.
At One Honey Boutique, we go beyond offering exquisite dresses. We register every Prom Dress purchase, ensuring a personalized experience. As your trusted Gold Coast prom store, we provide exclusive designs and a range of sizes (2AUS - 24AUS) to cater to diverse preferences.
Indulge in luxury without compromise with our Buy Now, Pay Later options. At One Honey Boutique, we offer hassle-free transactions through Afterpay, ZipPay, Humm, LayBuy, and all major credit cards, including AMEX. Your dream SHERRI HILL dress is just a payment away.
Glamour awaits, darling! 🌟 Unveil your radiance with a SHERRI HILL creation from One Honey Boutique. Dive into a world of elegance, seize the spotlight, and let your style sparkle. Remember, the journey to fabulous begins with a single dress. Join us on this enchanting adventure—follow us on TikTok and Instagram @onehoney for the latest trends, sneak peeks, and a sprinkle of fashion magic. Until our next rendezvous, stay fabulous! 💖✨
ONE HONEY AUSTRALIA'S LARGEST PROM & FORMAL DRESS SHOWROOM
Read more